Common Problems of Moving: Solved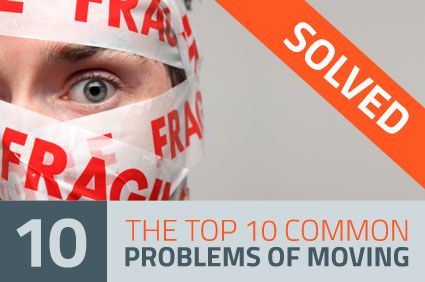 09-12-2015 12:46:22pm
We want every move to be stress free. Here's what you can do to help!
Moving can be a pretty stressful experience. More often than not, the stress comes from uprooting your life and the billion things you're having to juggle at once. Any 'problem' that you encounter along the way can really turn the screws during what is already a difficult time for you and your family.

In my experience, pretty much every obstacle can be overcome with ease. So lets address these little things that often become big things and make moving more stressful than it needs to be.

For the most part, it's about communication. Being thorough, clear and honest. That applies to all of us.
What you got there?
In order to provide you with an accurate quote and allow enough space in the truck, it's important that you tell us everything that needs to be moved. Of course, you're not likely to know until you've finished packing. Simply give us a call when you're done and we'll lock in the final inventory and price. Generally speaking, the more you have to move, the less it costs per cubic metre of volume. So there shouldn't be any nasty suprises here.
Don't let anything get in the way
It's really important that you have a good think about anything that could require special equipment, extra hands, or more time to get your move done. At pickup or delivery. Given the opportunity to plan for it, we can overcome just about any obstacle. But we need to know about it in advance. There are many 'access issues' that could effect our pricing or ability to get your furniture removal done seemlessly. Here's a few common ones to get the thoughts rolling:
Trees - Overhanging trees in a street or driveway may stop some of our trucks from gaining access to your residence.
Stairs - Stairs can equate to more time, more labour, or more the need for special equipment.
Lifts/Elevators - A removal that involves lifts is certainly easier than having to negotiate a winding staircase with a 3 seater couch. Notheless, it still takes longer. Some apartment buildings require that you book a lift for a time slot. Sometimes you need permission. Often, paperwork needs to be completed. You need to keep us in the loop about all these things so we can do our part.
Parking - Clearways, parking restrictions, availability... All can equate to increased costs and/or inconvenience. Again, with the communication and planning we will succeed.
Height restrictions and underground carparks - Plain and simple, the truck allocated to your pickup or delivery needs to be able to fit into certain areas, without getting stuck, damaged, or damaging property.
Weight...that's to heavy!
A 120 kg toolbox, two men won't be able to safely lift that. That's why when you are getting a quote, you must advise if there are any items that will be excessively heavy (more than 80 kg) to ensure not only the correct price is quoted, but also the right equipment can be organized to move such items. These larger, and heavier items, can also affect the time it will take to do your removal, and as our removalists work to a tight schedule, time is important.
Business operating hours, you know ours, now what's yours?
Ah four o'clock, knock off time, see you tomorrow! Around comes four thirty, the removalists give you a call, "We will be picking your goods up in half an hour," oh dear. To avoid this happening, let us know your business hours.
Hello, is it me your looking for?...help us contact you
The more contact details we receive from you, the better. Occasionally our drivers will not be able to reach you on your provided contact number, that's why it is recommended that you provide us with multiple contacts, to decrease the likelihood of this occurring. Mobile, home, neighbors, your cat, your dog, anyone who can help us out.
Don't bite off more than you can chew
Organising too much for moving day is a recipe for disaster. Moving day is a busy time. It can take longer than you think. It's not a perfect world, but wherever possible, allow yourself the time to be flexible. It's never advisable to book your removalists for the morning, plan to clean (or have professional cleaners booked) straight after, followed by settlement and flights in the afternoon. If you plan to be flexible you'll end up feeling more relaxed and at ease with the process. You'll also be better able to deal with any unforseen issues as they arise.
Keep it to yourself
Some items should always go with you, not with your furniture removalists. Important documents (like Visas, passports, insurance policies, prescriptions, deeds, marriage certificates, etc.) and irreplacable jewelery should travel with you.
Don't let the bottom fall out of your move
It's easy to underestimate how rigourous a trip across the Nullarbor can be. Always use boxes and packing materials that were made specifically for moving. Cheap or free alternatives may end up costing a lot more than you bargained for.
Never overload your boxes. Use smaller boxes for heavier items (like books) and larger boxes for lighter items. Ensure that you properly wrap items and pad the inside of your boxes (all sides) with butchers/packing paper.
Wardrobe malfunction!
It's tempting to try and save space (therefore money) by packing wardrobes, chests and drawers with other items. It's not a safe practice, though, and could end up causing injury or catastrophic damage to your property.
If you play with fire...
There's a number of things that are simply illegal for us to transport. And for good reason. Anything that is explosive, noxious, flammable, poisonous, or otherwise dangerous to transport needs to be disposed of properly or carried by specialist, licenced carriers. So be careful not to pack things like aerosols, lighter fluid, BBQ gas bottles and other dangerous items that are common in Australian homes. You should also empty any oil and fuel from garden equipment.
Bonus tip!
If you're travelling INTO Western Australia, strict quarantine regulations apply. There's a special form that we will supply to you that must be completed and sent back to us. You'll need to make sure that you're not transporting any organic material (soil, plants, etc.) into W.A.